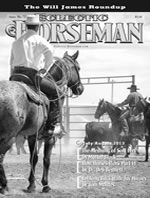 Buck Brannaman's Pro-Am Vaquero Roping
What Do You Mean by Soft Feel? by Martin Black (read online)
Martin explores the meaning of the soft feel and how to develop it in a horse without pain or desensitizing him.
The Will James Roundup by Tom Moates
The third annual Will James Roundup will be held Friday-Sunday, July 12-14, 2013, at the Big Horn County Fairgrounds in Hardin, Montana.
Learning to Learn with Joe Wolter by Patti Hudson
Joe discusses some ways to set yourself up to be successful as a student.
How Horses Work – Installment #14 The Flight of the Lengthened Trot: The Error of "Going More Forward" by Deb Bennett, Ph.D.
Dr. Deb examines the lengthened trot.
Looking Back with Jay Harney by Tom Moates
A visit with a horseman who has a direct connection to the old ways of the buckaroos and has made his life's work riding, roping and working on ranches.
Elegant Ways by A.J. Mangum  
Bill Heisman, one of the West's most revered craftsmen, shares his ongoing inspirations.