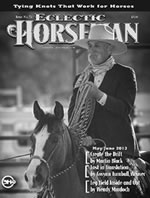 Create the Drift by Martin Black (read online)    
Martin explores the differences between disengaging the hindquarters and allowing them to drift and when and where each might be appropriate.
Taking a Different Approach Sorting It Out With Joe Wolter by Patti Hudson 
A discussion on finding straightness in an indirect way.
Cutting a Path by A.J. Mangum    
Montana rawhide braider Nate Wald learned his craft through experimentation and the accidental discovery of willing mentors. Today, he works to ensure aspiring craftsmen travel an easier path.
Lost in Translation —Understanding a Wordless World by Gwynn Turnbull Weaver  
Gwynn examines the challenges of communication between horse and humans when words get in the way.
Leg Yield Inside and Out by Wendy Murdoch    
Wendy outlines the basic function and instruction to ride the most basic of lateral movements.

Tying Knots That Work for Horses by Heather Smith Thomas    
There are several knots that every horseman should know how to tie—that are useful when working with horses.
Through Grit and Spirit by Maddy Butcher Gray 
Profile of Canadian horsewoman Kyla Pollard and her journey into the world of horsemanship.