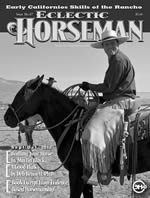 Learned Helplessness by Dr. Stephen Peters and Martin Black
An excerpt from the book Evidence-Based Horsemanship, developed out of a collaboration between Martin Black and Dr. Stephen Peters, who felt that the public and their horses needed a source of accurate information.

How Horses Work – Installment #12 A Good Walk with Deb Bennett, Ph.D.
Dr. Deb explores the walk, what a good walk is, and how to maintain it.

Stay on the Centerline with Scott Grosskopf
Scott demonstrates how to avoid a common roping fault when dallying that will improve your roping and maintain your horsemanship.
Contract Colt Starters: Jim and Luke Neubert by Tom Moates
Meet Jim and Luke Neubert, who travel the country and the world starting colts for a variety of clients.

The Making of Willing Partners: Insight on Stockmanship by A.J. Mangum
A.J. visits about the creation of the new book by Peter Campbell about horsemanship and stockmanship.
Early Californios Skills of the Rancho by Tom Moates
Learn all about a new event set to be held next February in Santa Ynez, California.