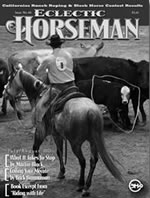 What It Takes to Stop by Martin Black
Martin discusses what makes a good stop possible and how to set you and your horse up for a good experience in learning to stop.
Putting a Coil in Your Mecate with Buck Brannaman
It's the little things that make a big difference. Buck demonstrates several ways to put a coil in your mecate reins.
Set Aside Your Preconceptions by Bruce Sandifer
Bruce offers some thoughts on how to approach your horse each day.
The First Ever Horsemen's Re-Union by Maddy Butcher Gray photos by Patti Martin
A full report of this year's ground-breaking event including sale details and dates for the 2013 event.
An Exerpt From: Riding with Life from the Ground Up: A Winning Approach for All Equestrians  
A selection from the newly released book by Melanie Smith Taylor.
The Ground Seat by Cary Schwarz
Cary explores just what makes that comfortable seat in a saddle so comfortable.
2012 Californios Ranch Roping and Stock Horse Contest Results photos by Heiko Rodde
Results and photos from the 13th annual event.