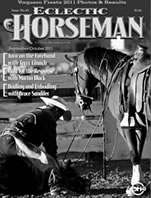 Wait for the Response by Martin Black
Martin discusses the importance in learning to train ourselves to wait for our horse to respond when we make a request rather than automatically asking for more.
Disengaging the Hindquarters to Prepare for the Turn on the Forehand Part 1 by Terry Church
Terry integrates this common horsemanship maneuver… preparation for a competitive dressage movement in the first part of this series.
Bridling and Unbridling with Bruce Sandifer 
Bruce talks us through the process of bridling and unbridling a horse with a spade bit, discussing not only mechanics but a good approach.

Training Inside the Triangle — Inside the A-Pen with Martin Black by Tom Moates
Tom interviews Martin about the evolution and function of the A-Pen in helping to develop a strong defense in your horse when working cattle.
2011 Vaquero Fiesta in Alturas, California, Event Results & Photos by Patti Martin