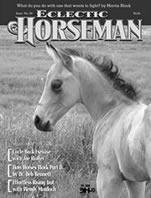 Circle-Back Exercise with Joe Wolter
Joe Wolter walks you through an exercise that will challenge you and your horse and help you discover braces or stuck spots that you might not have been aware of.
What do you do with one that wants to fight? by Martin Black
Martin examines what situations might cause a horse to feel like he needs to fight, and how we can avoid putting our horse in that situation.
Effortless Rising Trot by Wendy Murdoch
Do you have difficulty in the rising trot? Wendy offers some suggestions to make posting effortless and comfortable.
How Horses Work – Installment #8 The Magic Formula with Deb Bennett, Ph.D.
Dr. Deb continues her series on understanding the biomechanics of horsemanship exercises and the anatomy of these foundation exercises.
As Long As I Can Still Make Saddles
A profile of a talented young saddle maker, David Rigby, whose life should be an inspiration to us all.