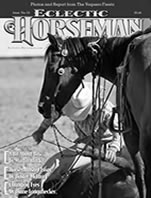 Event Results from Vaquero Fiesta in Alturas, Calif.
Challenge, Encourage & Inspire by Buster McLaury (read online)
Buster relates a story where taking the time to preapre a horse to do a job had immediate results when it came time to do the job.
A Bit About Bits by Martin Black (read online) 
Martin shares some of his thoughts about the modern selection of bits and the bridle horse tradition.
Changing Eyes—Using a Fence by Diane Longanecker 
Diane outlines an exercise to help your horse learn to change eyes comfortably using the fence in your round pen.
How Horses Work – Installment #5 The Magic of Draping Reins with Deb Bennett, Ph.D.
Dr. Deb continues her series on understanding the biomechanics of horsemanship exercises and the anatomy of these foundation exercises.
Another Piece of the Puzzle by Tom Moates
An excerpt from Tom's latest book Between the Reins: A Continuing Journey into Honest Horsemanship.
The Severe Family – Cowboy Gear Makers Part 2 by Carol L. Erickson
With the 100th Anniversary of The Pendleton Round Up upon us, we've profiled one of the families connected with the event for many generations.