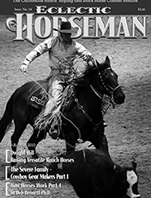 Event Results from The 11th Annual Californios Ranch Roping and Stock Horse Contest by Patti Martin
Think Outside the Boxing by Martin Black (read online)
Whether you are working cattle on the ranch or in a show if a cow is set up to be handled in the right way, you will have a successful experience.
Get Ready to Ride #2 – Open Your Hips by Wendy Murdoch
When the hips are not open it can be a hindrance to your seat and also your horse's movement. Wendy shows you how to get your hips open and supple.
Dwight Hill – Raising and Training Versatile Horses by Heather Smith Thomas (read online)
Learn about Dwight's history and his breeding and training program for solid and sane horses.
How Horses Work – Installment #4 The Anatomy of Untracking and Leg Yielding with Deb Bennett, Ph.D.
Dr. Deb continues her series on understanding the biomechanics of horsemanship exercises and the anatomy of these foundation exercises.
The Severe Family – Cowboy Gear Makers Part 1 by Carol L. Erickson
With the 100th Anniversary of The Pendeleton Round Up upon us, we've profiled one of the families connected with the event for many generations.