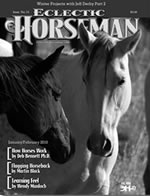 Flagging From Your Horse by Martin Black (read online)
Martin, building on previous articles, discusses the benefits and basics of flagging another horse from your saddle horse.
How Horses Work – Installment #1 The Anatomy of the Soft Feel with Deb Bennett, Ph.D.
Dr. Deb starts her series on understanding the biomechanics of horsemanship exercises and the anatomy of the soft feel.
Winter Projects Part 2 with Jeff Derby (read online)
Building on the article in the last issue, Jeff guides his horse over the bridge and elaborates on when to know your horse is ready.
Learning Feel by Wendy Murdoch (read online)
Wendy explores the concept of feel and examines the commonly held idea that feel cannot be taught.
Peter Campbell Donates Clinic Spots by Michelle Julian
Michelle Julian, of the Nebraska Humane Society, recounts her experiences attending a Peter Campbell clinic with an "adoptee."
Superheroes and Butter Knives by Julie Arkison
Julie shares her challenges and successes with her horse Keegan under the tutelage of Bettina Drummond.