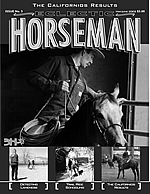 Ten Questions with Terry Church (read online)
Meet Terry Church, a California horsewoman and instructor who seeks to bring harmony into her student's relationships.
The Californios Ranch Roping and Stock Horse Contest Results
Building a Foundation, part 2 with Bryan Neubert
In part two of this series Bryan introduces the use of the halter and the flag, and begins to expose the gelding to being petted.
The Biggest Schooling Arena by Sylvana Smith (read online)
A trail ride can be just as productive as riding in an arena. Sylvana shows you how.
Detecting Lameness in Your Horse, part 1 by Sue Stuska, Ed. D. (read online)
One Man's Opinion About One Man's Opinion by Chuck Stormes (read onlines 
A review of the beautiful new book which explains the intricacies of the spade bit.