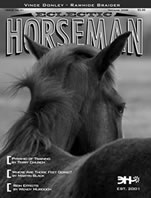 Where Are Those Feet Going? by Martin Black (read online) 
Martin explores the importance of having a job for our horses and challenges us to develop our feel by creating jobs when none exist.
Pyramid of Training – Part 1 by Terry Church (read online) 
Terry offers an introduction to a series on how she has modified the classical pyramid of training for the every-day horseman.
The Anatomy and Function of Rein Aids by Wendy Murdoch (read online) 
Wendy guides us through the various types of rein effects and ways to effectively use this valuable aid.
Instructors Clinic Report by Bill Basham 
Bill reflects back on a ten-day instructors clinic with Wendy Murdoch last fall in Fort Collins, Colo.
Donley Rawhide by Doreen Shumpert 
Vince Donley is one of the most respected and sought-after rawhide braiders around. Learn how he got his start.
Magic Moments by Julie Arkison 
Julie finds inspiration at her local Tractor Supply store and shares her experience riding with a former member of the Spanish Riding School.
Eye Problems Need Veterinary Attention by Sue Stuske Ed.D. 
Sue walks us through the various symptoms of eye problems and offers guidance as to when they require veterinary attention.