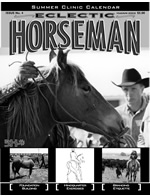 Branding Ettiquette with Buck Brannaman (read online)
Helpful suggestions to keep both you and your horse safe and get invited back to the branding next year.
Building a Foundation, part 1 with Bryan Neubert 
Follow along as Bryan works with a wild horse at a demonstration. Learn how to establish the basis of communication through body language.
Getting to the Hindquarter by Sylvana Smith (read online)
A step-by-step plan for gaining lateral control of your horse's hindquarters through a series of progressive exercises.
Taking your Horse's Temperature by Sue Stuska, Ed.D. (read online)
Learn how to determine your horse's basic vital statistics.
Learning to Learn About Horsemanship by Jan Young
Your eyes are open to a new world of possibility,but how do you set out to learn more?
Ten Questions with Joyce Harmon, DVM MRCVS (read online)
Joyce is a holistic veterinarian based in Flint Hill, Virginia.