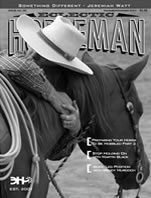 Hobbling Your Horse Part 2 by Gale Nelson 
Steps to safely put hobbles on for the first time for three-way and two-way hobbles.
Stop Holding On by Martin Black (read online) 
Martin discusses how the making of a hackamore or bridle horse is dependant in great part on the timing and feel of the rider's hands.
A Do-it-yourself Guide to Good Leg Position by Wendy Murdoch (read online) 
Searching for perfect leg position? Wendy offers some simple adjustments to help you find it on your own.
Jeremiah Watt – Something Different by Doreen Shumpert (read online) 
A profile of how craftsman Jeremiah Watt started and built his successful gear business.
Horse Travel Books by Tom Moates
Tom Moates introduces us to a wonderful world of equine travel literature with excerpts from two fantastic books.
The Seeds of Horsemanship by Jan Young 
Jan Young offers a unique metaphor for the journey of developing good horsemanship.