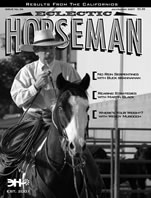 Rearing Strategies by Martin Black (read online)  
Martin offers strategies and understanding to one of the more unsettling behaviors our horses can exhibit.
Serpentines with No Reins with Buck Brannaman (read online) 
A simple exercise from Buck Brannaman that will help prepare your horse for the bridle and help him be with you both mentally and physically.
Where is Your Weight? by Wendy Murdoch
Wendy offers a pratical demonstration of weight aids using a ball to simulate how your weight affects your horse underneath you.
Bareback Riding by Sue Stuska Ed. D. 
Riding bareback might be something you would do just for fun, but there's more to it than you might think!
Californios Results 2007
The Double Diamond Halter Co. by Doreen Shumpert (read online)
Learn how the pieces of the puzzle came to gether for Pete Melniker to start and grow the Double Diamond Halter Co.
Observations by Cary Schwarz
What does it take to become a good observer?
Horsemanship in the Real World: Letting Others Ride Your Horses by Cheryl Kimball 
Cheryl explores this common dilemma for owners protective of their horse's sensitivity.
Pushing the Envelope by Tom Moates 
Riding with Harry Whitney, Tom explores what can happen when you leave your comfort zone.