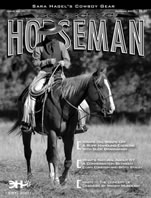 Thoughts on Washing Horses by Martin Black (read online)
Thinking about introducing your horse to the experience of being washed from his point of view.
Wraps on, Wraps off by Diane Longanecker 
A roping exercise that develops many skills at once, presented by Buck Brannaman.
What's Natural About It? A conversation with Ellen Eckstein and Betty Staley 
A thought-provoking and candid conversation about equipment and intent.
Remembering Ray Harmon Photos and memories of our good friend
Unity – The Concept of Oneness by Wendy Murdoch 
Wendy explores the physical qualities needed to achieve unity as it pertains to the joining of two separate entities.
Hagel's Cowboy Gear by Doreen Shumpert (read online) 
Meet Sara Hagel, a name most folks associate with the finest hair ropes. Learn about her other gear and how she got her start.
Fellowship Essay by Tom Moates 
Tom examines the story of Dan Robinson, a British horseman who brought together the global horse community.