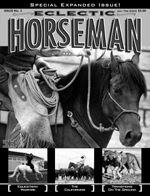 How Groundwork Relates to Riding, part 3 with Mindy Bower (read online)
Transitions on the ground prepare your horse for transitions under saddle.
Handle the Feet; Be Friends with your Shoer with Bryan Nuebert
Bryan demonstrates several helpful hints to keep in mind while handling your horse's feet.
The Californios Ranch Roping and Stock Horse Contest by Raphael F. Prudente
A modern-day competition that preserves vaquero tradition.
The Origins of Equestrian Warfare and Its Influence on the Development of the Iberian Horse by Bettina Drummond and Dr. Max Gahwyler
Keeping Your Horse Warm in Winter by Sue Stuska, Ed.D. (read online)
Separate cold-weather myths from healthy horse facts.
What is Natural Horsemanship? by Clay Wright
What's in a name? Clay explores this popular term in his thoughtful essay.
One-Day Wonders by Sylvana Smith
Are we helping our colts or hurting them by starting them in one day? A photo essay by Sylvana.