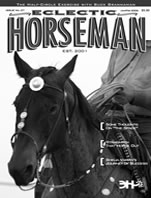 Straighten That Horse Out by Martin Black (read online) 
Without straightness you will never achieve fine horsemanship. Martin shares his thoughts on this essential topic.
The Half-Circle Exercise with Buck Brannaman (read online) 
A powerful exercise to focus on your horse's front quarters and check out how respectful your horse is of your space.
Some Thoughts on "The Spade" by Gwynn Turnbull Weaver 
Revered by some, despised by others, this piece of equipment stirs emotions on both ends of the spectrum. Learn more.
Doing Well by Doing Right by Kara L. Stewart 
Take a look at Shelia Varian's remarkable program that approaches breeding, training and selling from the horse's point of view.
What Humans Can't Teach by Nicole Allison Schultz (read online) 
Nicole examines the importance of herd socialization for the future of the performance horse.
Improving Your Weight Aids by Wendy Murdoch (read online)  
By thinking about what Wendy calls the "Pelvic Clock," you can improve and refine your weight aids for refined horsemanship.
Genetics Basics by Sue Stuska Ed.D. 
Think the genetics of coat color inheritance is too confusing? Guess again. Sue gives you a genetics lesson.
Bucking Rolls by Cary Schwarz (read online) 
Are these common pieces of equipment utilitarian or fashion in nature? Cary examines the past and present of the bucking roll.