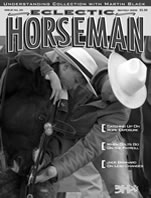 Understanding Collection by Martin Black (read online) 
A fresh look at a concept that is often misunderstood and misidentified.
Catching Up on Rope Exposure with Bryan Neubert (read online) 
Bryan demonstrates how to expose a worried horse to having a rope around his hind legs.
When Colts Go on the Payroll by Gwynn Turnbull Weaver 
Reflections on past wisdom and modern practice on when putting a colt to work is appropriate.

Part 5: Moving From One Lateral Movement to Another by Wendy Murdoch 
Wendy simplifies the overwhelming task of moving in and out of lateral movemnts.
Jack Brainard, The Straight Man, on Flying Changes by Meg Cicciarella  
Meg looks at the fundamentals of lead changes through a living legend's eyes.
What's in a Snaffle by Sue Stuska Ed.D. (read online)
Understand how this ubiquitious piece of equipment functions and why it is considered a good place to start.