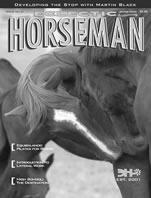 Developing the Stop by Martin Black (read online) 
Martin guides you through an exercise that helps you prepare your horse to learn to get stopped.
To Practice Your "Promise," Ride the Fence by Diane Longanecker 
Buck demonstrates how to use your stirrups to help your horse to move out.
Introduction to Lateral Work by Wendy Murdoch 
Wendy introduces the basic concepts of lateral work, laying the foundation for this extended series of in-depth articles.
Equibalance Part 2: The Magnets with Julie Leiken 
Building on last issue's foot exercises, Julie adds a series of exercises to find imbalance, then strengthen your inner legs.
High School: It's the Journey That Defines the Destination by Jec A. Ballou 
Jec examines where high school training fits into modern dressage.
NH works for 4H by Jan Young 
Read about Natural Horsemanship concepts being taught to 4-H riders over the summer in Spokane, Washington.
The Cast Horse: Prevention and Solutions by Sue Stuska, Ed. D. 
When you have to keep your horse in a stall, know how to prevent him getting cast and how to help him out if he does.