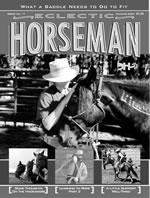 Protect Your Space by Martin Black (read online) 
Martin offers advice on having your horse comfortable with you without being pushy.
A Little Support Well-Timed by Diane Longanecker 
A few basic tools to keep your horse supported while working on trouble spots.
Some Thoughts on the Hackamore by Gwynn Turnbull Weaver 
Gwynn explores the tradition and the function behind using this piece of gear.
Safely Prepare Your Horse for Roping and Cow Work with Mike and Deanie Hosker Part 2 by Gale Nelson
What the Saddle Does by Wendy Murdoch 
Wendy examines the saddle and explores what it needs to do to work well and fit both you and your horse.
Make the Most of Your Pasture With Controlled Grazing by Sue Stuska Ed.D.
Limited pasture? Sue offers suggestions to make the most of the pasture you have.