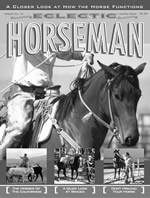 Build the Cow in the Cow Horse by Martin Black (read online)
Martin offers suggestions for educating a well-rounded cow horse.
Don't Mislead Your Horse with Buck Brannaman 
Buck demonstrates how to get your horse "hooked on" to you while leading.
The Horses of the Californios by R.F. Prudente  
A unique opportunity to purchase an educated ranch horse at a select stock sale.
The Elements of a Saddle Part 3 by Chuck Stormes (read online)
In the final installment of this series, Chuck examines rigging types and placement.
Balance vs. Motion in Dressage by Jec A. Ballou (read online) 
Jec explores the different philosophies of French and German Dressage training.
What's Right for Geronimo by Emily Kitching 
What's more important: a sucessful show career or a happy horse? Ask Geronimo.
Quick Look at Braces by Diane Longanecker 
Diane examines the nature and causes of braces in your horse and ways to fix them.
A Closer Look at How the Horse Functions by Wendy Murdoch (read online) 
Wendy uses X-ray vision to compare how a horse can use itself well or poorly.