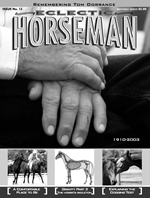 Tom Dorrance- More Than a Horseman by Jim Overstreet (read 0nline) 
Jim shares how Tom Dorrance influenced both him and others in deeply personal ways while working with them and their horses.
A Memorial for Tom Dorrance by Kristi Fredrickson 
On June 29, 2003, friends, family, and admirers gathered in Carmel Valley, Calif., to celebrate the life of Tom Dorrance
Remembering Tom Dorrance (read online) 
A collection of remembrances to mark the passing of this remarkable horseman and human being.
A Safe, Comfortable Place to Be by Diane Longanecker 
How can we create a space for our horse where he feels safe and comfortable?
Gravity, Part 2 by Wendy Murdoch 
Wendy examines the second half of the horse and rider combination and how the horse's body functions in gravity.
Elements of a Saddle Part 2 by Chuck Stormes (read online) 
Saddlemaker Chuck Stormes examines the historical development of the saddle seat and the function of the seat.
Coggins Test- Why? by Sue Stuska Ed. D. (read online)
Sue explains the reasons behind testing, and the challenges of Equine Infectious Anemia.
The Story of Bud, Part 5 by Cheryl Kimball