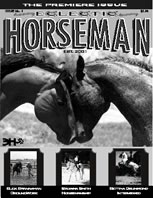 Welcome to Eclectic Horseman Communications! 
Find out what we're all about and what you can expect From your subscription to our publication.
Getting Off on the Right Foot with Buck Brannaman (read online)
Learn the first basic moves of what will someday be an Intricate dance with your horse.
How Groundwork Relates to Riding, Part 1 with Mindy Bower (read online)
Learn specific ways that it relates to riding.
Bettina Drummond and her life studying under Nuno Oliveira by Wendy Murdoch (read online) 
A rare glimpse into the life of a master.
Warm-up Strategies by Sylvana Smith 
Keep your mount calm and ready by integrating your horsemanship clinic Exercises into showday schooling.
Understanding Colic by Sue Stuska, Ed.D. (read online)
What is colic? What causes it? How can I take measures to prevent colic?