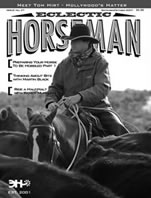 Hobbling Your Horse Part 1 by Gale Nelson 
Hobbling a horse can be very useful. Here are several exercises to prepare your horse for hobbling, using a cotton foot rope or a lariat.
Where Your Energy Meets Your Horse's Energy by Martin Black (read online) 
Martin discusses how the presentation of a bit is more important than the type.
Learn How to Ride a Half-Halt by Wendy Murdoch (read online)
Finally, the half-halt is demystified! Wendy shows you how to teach yourself off your horse how to ride an effective half-halt.
Pack Saddles and Sudaderos by Tom Moates 
Tom examines the global connection of girthless pack saddles and horsehair blankets.
Hollywood Hatter… Horseman at Heart by Doreen Shumpert 
Meet Tom Hirt, hatter for many Hollywood Westerns. Learn how he got his start in the fine craft of custom hat making.
Inside Leg to Outside Rein by Jec Ballou 
Jec presents how an appropriate concept can be overdone and the problems it can create.