With Bryan Neubert

At a recent clinic Bryan demonstrated how he might get a colt used to a rope touching him on the hind legs and around the flank, something that Bryan likes to do when he is halterbreaking his young horses.
"This is something I do on every horse, it's a pretty standard deal for me," said Bryan. "I like to do this when I'm breaking a young horse to lead; then it is so much easier down the road to trim their feet, doctor a wound, all those things. Then they have already been touched, they know how to lead, and even though it may be years before I would go to a calf branding with them, they are not going to blast through the ground crew if a calf runs behind me and get myself and others into trouble. I like to start getting a horse ready for those things right at the beginning.
"With all horses, and especially one that is touchy or afraid I want to do some things before I get on that will reduce the chance of getting in a wreck. Even though I know I can ride a certain horse that bucks, he could crash into something or fall down and hurt me or himself. Even if you can ride a horse that bucks, it's not just not making the ride that could get you hurt.
"On a horse like this that is very worried about a lot of things, this would be a good thing for him to get good at:
having the rope touch him on the hind legs, move forward from the rope around his flanks. I want him to first not be afraid of the touch of the rope, and then be able to yield to the pressure of it. You could use a lass rope, but my preference would be a longer lead rope on the halter so that I wouldn't have to keep track of the coils. When I start my babies, I have a halter with about a 25′ lead so that I can just use my lead rope that is attached to the halter.
"Looking at the big picture, this is an opportunity to help a horse like this, who is tight and worried, learn to relax and make adjustments, which will contribute to the success of his first ride."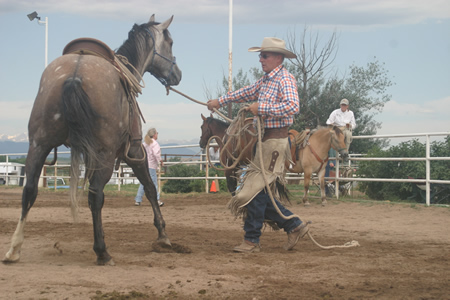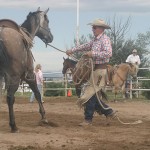 Photo 1
1. He is pretty scared of me and my chaps, so I'll just see if he can move forward around me.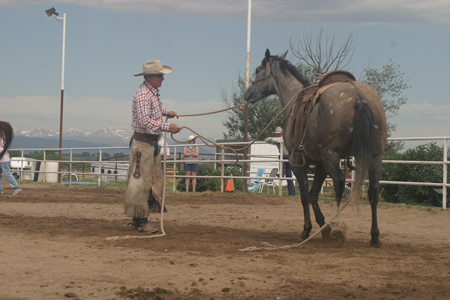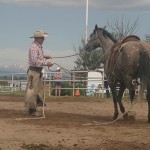 Photo 2
2.I'll set the rope up over the saddle so that it just tickles him on his hind legs to start with.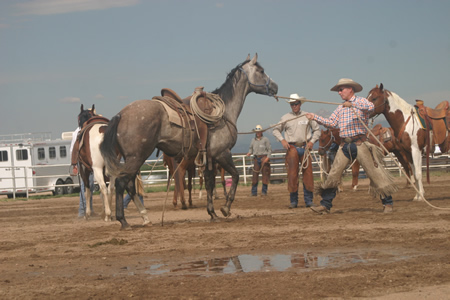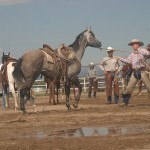 Photo 3
3.If he gets bothered and trys to go backward instead of forward, I'll roll the rope with my right hand till he goes.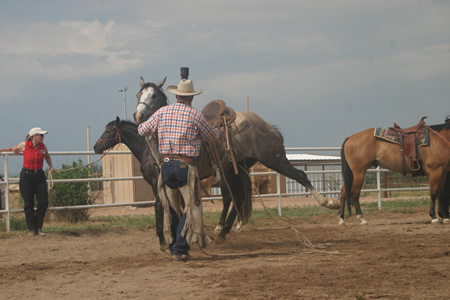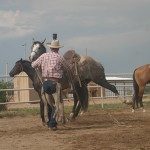 Photo 4
4.If he kicks it off, it's not a big deal. It just gives me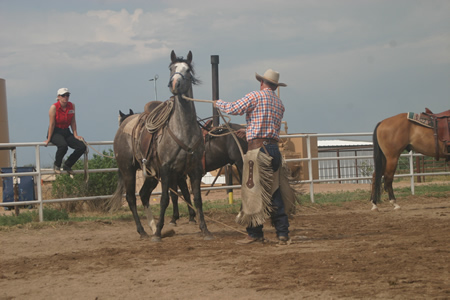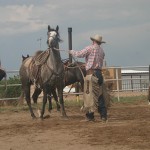 Photo 5
5.I'll make it uncomfortable to go back by tapping him with the rope against the side of his neck to encourage him to go forward.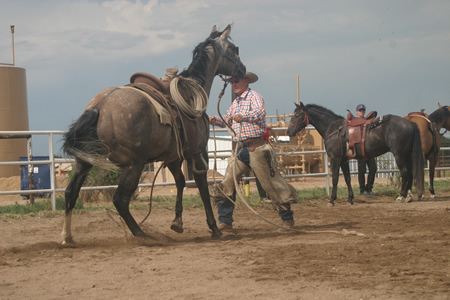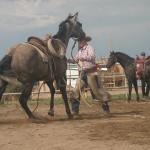 Photo 6
6.I'll keep rolling the rope that is up over the saddle to encourage him to move his feet forward.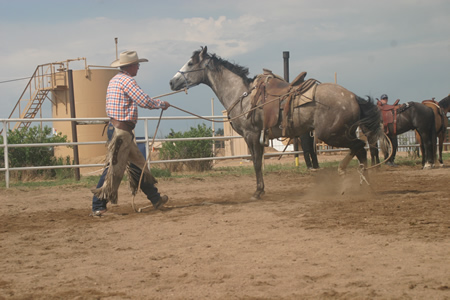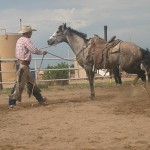 Photo 7
7.All I want him to do is go forward, but he says, "when I go forward, I get scared."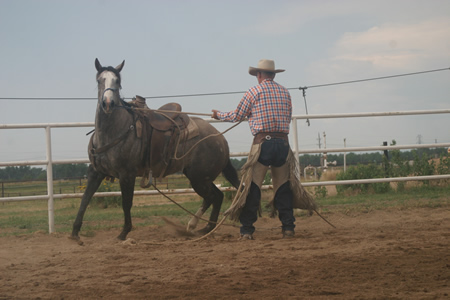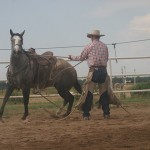 Photo 8
8.He is pretty tense about this, so I might do this every day until he notices the rope about as much as his tail.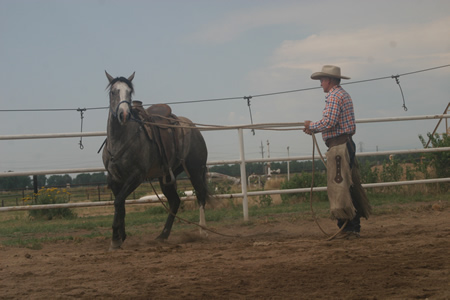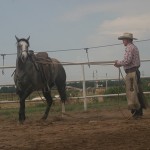 Photo 9
9.That's better. He's moving forward with it tickling that hind leg and he's feeling better for a moment about it.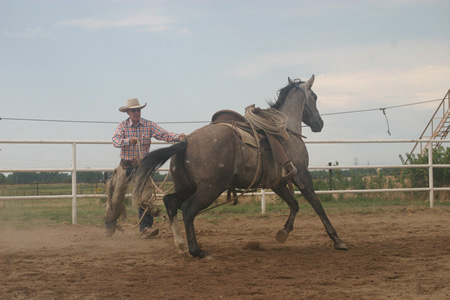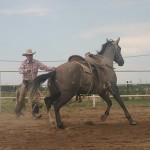 Photo 10
10.But if he gets scared again and has to zing around, no problem that is part of the process.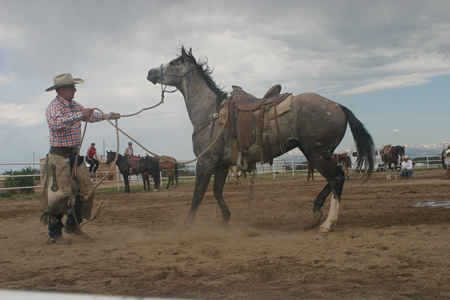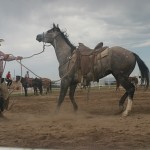 Photo 11
11.If he gets stuck and wants to go back, I'll just make it uncomfortable until he comes forward.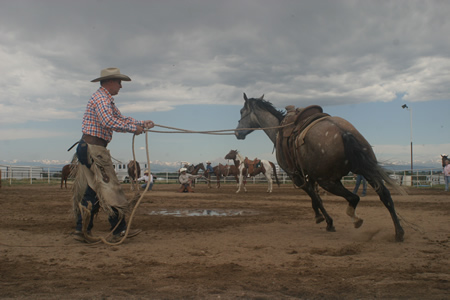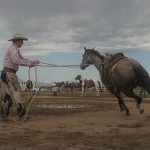 Photo 12
12.Now he's forward, but still tight and the rope isn't even really touching him, but he is still worried.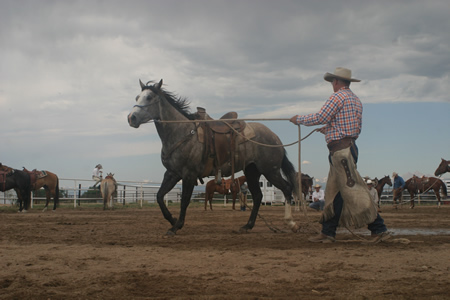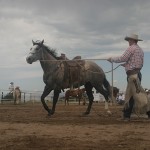 Photo 13
13.He is trying to live with it, but he still is moving with a hitch in his hind legs.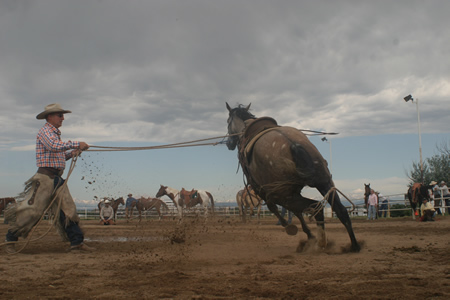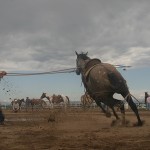 Photo 14
14.If he has to take a whack at the rope, that should be no surprise.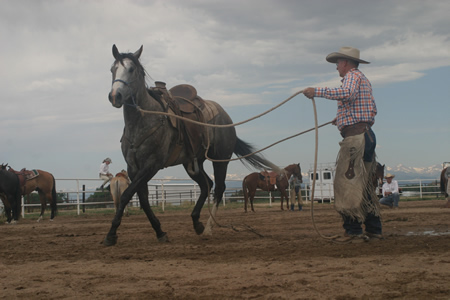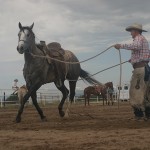 Photo 15
15.There he is starting to live with it; his tail isn't clamped, he's not squirting around the circle.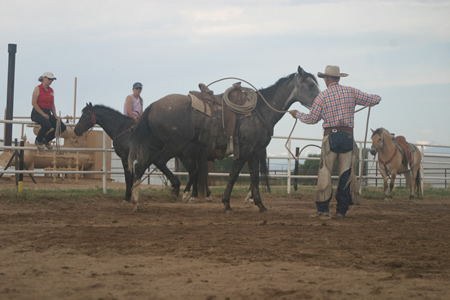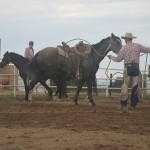 Photo 16
16.The rope wrapped around his left leg. He thought he might need to stop. I'll roll the rope to help him keep moving.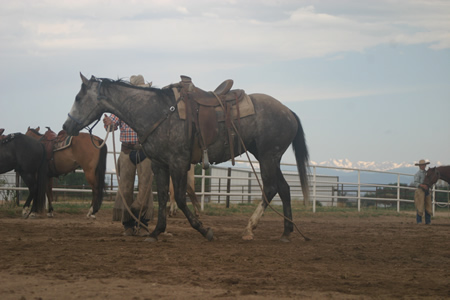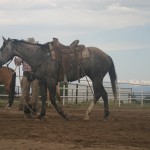 Photo 17
17.That's a nice improvement, He's relaxing about the rope, not looking so bothered.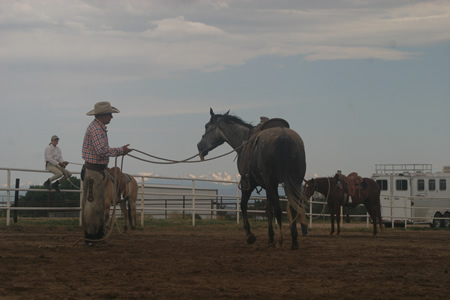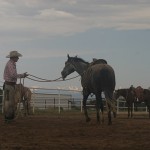 Photo 18
18.There he's licking his lips. I might move on to something else, see if he can handle a little more.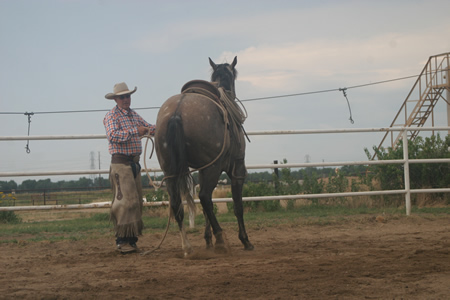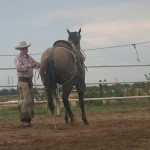 Photo 19
19.Now that he is gaining a little confidence, I'll see if he can yield to the rope around his hindquarters.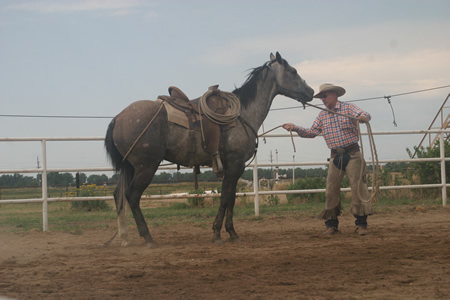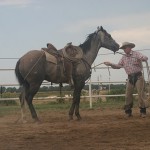 Photo 20
20.He might not think to move forward. I'll just see if I can lead him with the rope.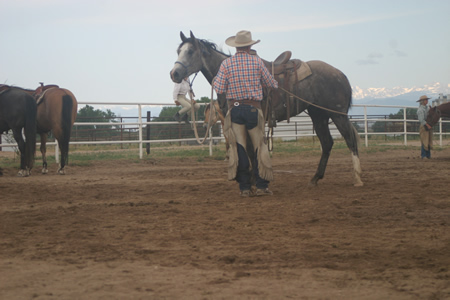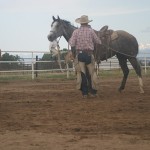 Photo 21
21.Now that he's found out that the rope isn't going to hurt him, he can yield to it without getting tight.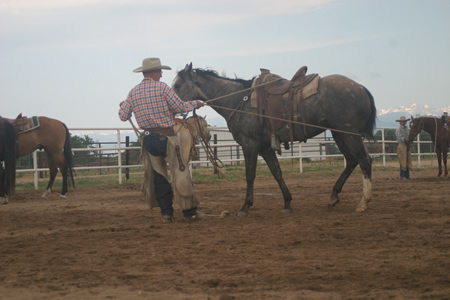 Photo 22
22.There, he's getting the idea: move your feet forward away from the pressure.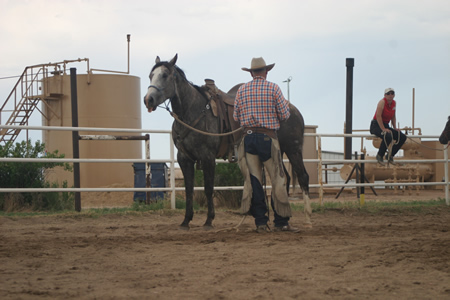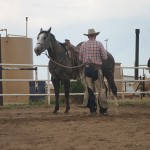 Photo 23
23.This looks nice on the left side. He's licking his lips. I'll give him a break and switch sides.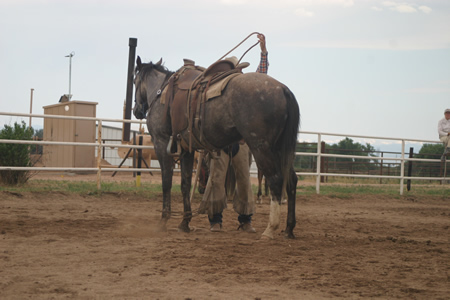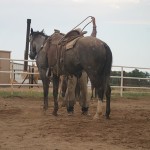 Photo 24
24.I have my lead rope fairly short to reduce the chance of him getting me kicked and...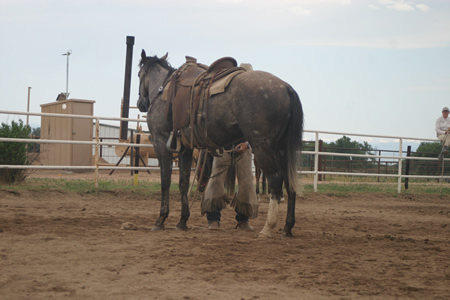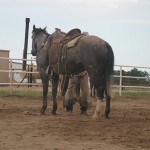 Photo 25
25.... as it reaches the mid-point on the way back down I give it a tug and it will swing back to me easily.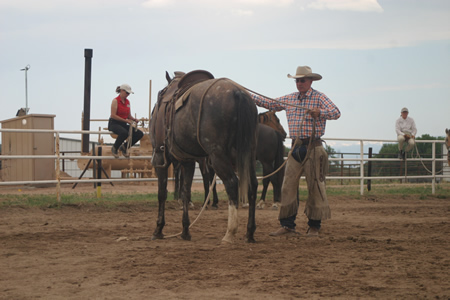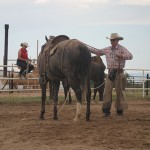 Photo 26
26.Now that he's getting more comfortable with the whole idea of the rope, I'll see if he can yield to it.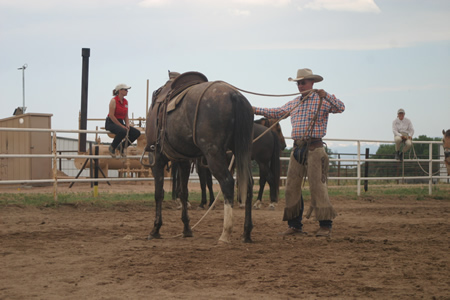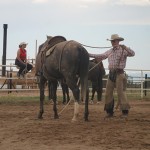 Photo 27
27.I want him to keep coming around me as I draw in the rope with my left hand putting pressure on ...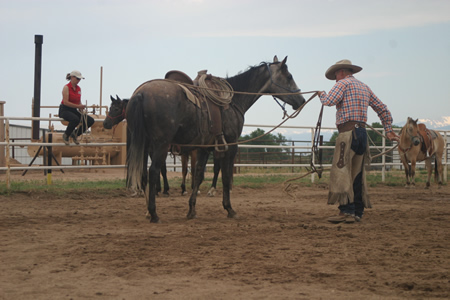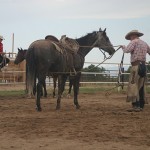 Photo 28
28.... the rope around his flank. He's moving forward off the pressure pretty relaxed.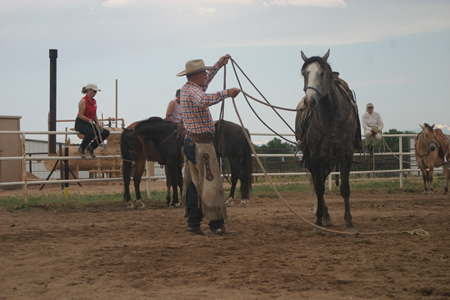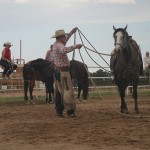 Photo 29
29.Now I might let the rope slip down a little, so it is above his hocks. If he gets scared, I'll lift it back up.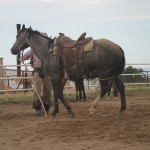 Photo 30
30.He's got a little hitch, a tight spot, in his stride, but he is trying to hold together and to live with it.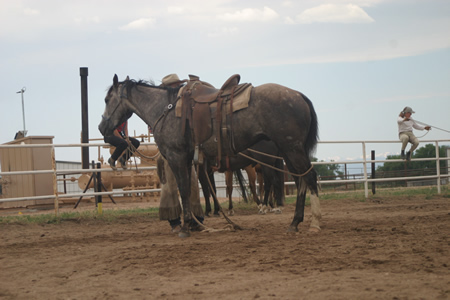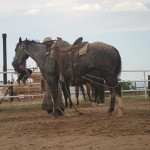 Photo 31
31.I'll let him come to a stop and quit him on this side before he quits me.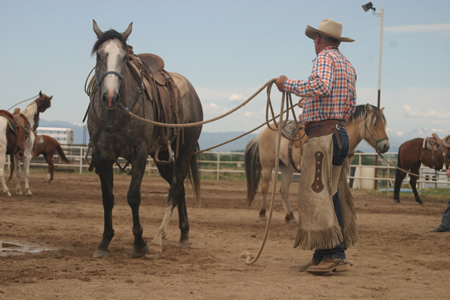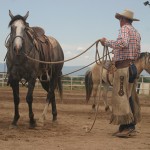 Photo 32
32.Now back to the left, one more little dose, making sure he moves forward from pressure on the rope.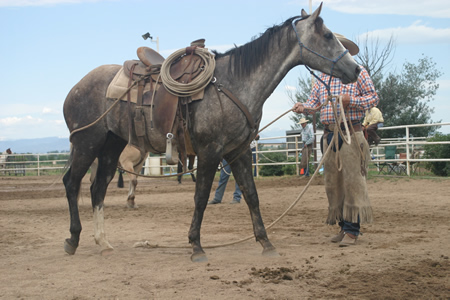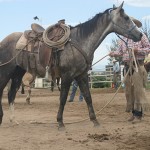 Photo 33
33.This is looking better. I can draw on the rope and he yields to the pressure without getting tight.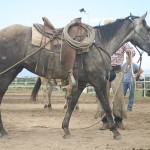 Photo 34
34.This is nice. He's licking his lips and looks as natural as if he were going out to eat some grass, nice and relaxed.
This article originally appeared in Eclectic Horseman Issue No.25