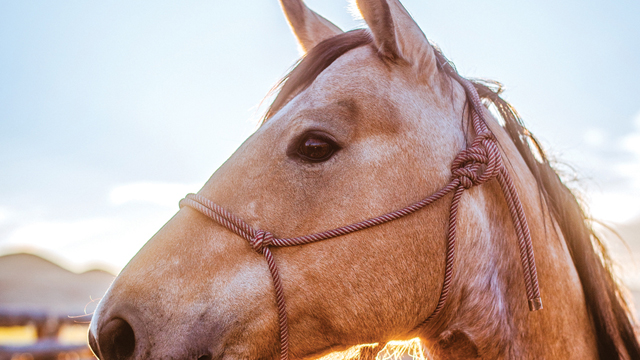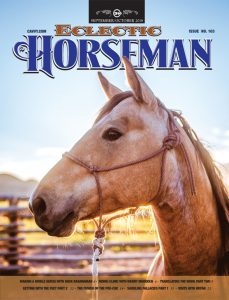 Eclectic Horseman Issue No. 103

September/October 2018
Buck Brannaman: A Few Thoughts on Making a Bridle Horse
By Tom Moates
Some thoughts on the stages of traditional bridle horse head gear from Buck Brannaman.
Saddling Fallacies Part 1: "English", "Western", and The "Old West" That Never Was
By Deb Bennett, Ph.D.
Turning a focus on saddles, this series starts with a look at an historical understanding of saddle types.
Riding Clinic with Wendy Murdoch: Why Can't I Sit The Canter?
By Wendy Murdoch
In this new feature, Wendy offers a lesson to a constructive lesson on sitting the canter by examining a rider submitted photo.
Translating the Work: An Interview with Milly Hunt Porter, Part Two 
By Donnette Hicks
Understanding the life and history of the writer who made possible two of the greatest print resources on horsemanship.
Australia with the Wolters
By Patti Hudson
A clinic report on several Joe Wolter clinics down under.
Getting with the Feet Part 2 – Forward and Stopping
By Jan Young
Explore some concepts in rider position and how some simple concepts can help you get a better feel of your horse's feet both moving forward and stopping.
The Power of the Pre-Cue
By Nancy David Dillon
A thought provoking essay on what the meaning and application of the phrase "prepare to position for the transition."
Visits with Bryan
By Pat Gleeson
Some thoughts from Pat on riding with Bryan at his home ranch in Alturas, California.
Eclectic Horseman Magazine Subscription
$38.00 – $120.00
Product Description
You've just found Eclectic Horseman, the bi-monthly magazine dedicated to educating horse owners of all skill levels and disciplines. Eclectic Horseman is filled with solid information for horse owners of every skill level and takes a balanced approach to your education.
Every issue features detailed how-to articles from a number of top trainers and clinicians as well as thought-provoking philosophical stories. Eclectic Horseman is different from any other horse publication on the market.
How-To Articles With:
 Horse training tips with the best in the business.
 Detailed step-by-step articles teaching readers how to perform specific tasks or accomplish certain goals with their horse.
Articles covering a variety of levels, one for beginners, one for more advanced riders.
Easy to follow photos layouts and diagrams for you to follow.
Features:
Exploring how craftsmen create the equipment we use on our horses and ourselves.
Looking outside traditional understandings: biomechanics, body movement, holistic medicines.
Studies and reprints of ancient horsemanship texts to learn from the masters of the past.
Philosophical Articles:
Anecdotes from talented horsemen that teach a horsemanship lesson or experience.
Exploring why horses have certain reactions and why some methods are more effective.
Stories that teach how to build a better relationship through understanding and communication.
To the very best customers in the world,
Would you be interested in never missing an issue, saving yourself some hassle, and saving us a stamp! :)  Then drop us a note at checkout or call 303-449-3537 to let us know if you would like the option to auto renew your subscription(s).  
Thanks for all your support! 
— Eclectic Horseman