A benefit auction has been set up on Facebook to help Rick and Marcia Walt. Rick is hurt, facing significant medical bills, out of a job and must move from the ranch he and Marcia have worked and called home for the last 21 years.
The donations that have already been received from friends, artists and the cowboy community to make this auction a success has been staggering. There are items any collector of vaquero gear will dream of owning; working gear from bits and bosals to romal reins, blankets to spurs; photographs and art from renown photographers and artists; jewelry; a handmade quilt; and even coloring books for the kiddos. Items are being updated daily. The auction will run February 28th through March 13th. Donations should be sent to c/o Glynna Hoekstra PO Box 3090 Valley Center CA 92082 and must be received by February 28 to be posted (with credit to you, your business, etc.)
You will not want to miss this! https://www.facebook.com/Rick-Marcia-Walt-Benefit-Page-110399044876816
---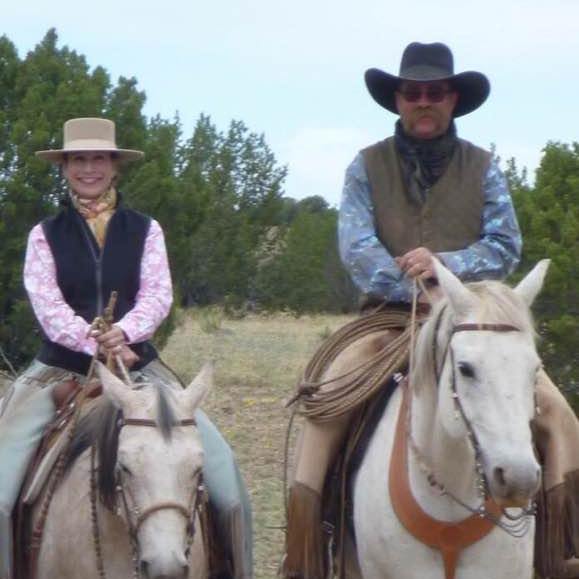 Learn More
The life of a cowboy is not easy on a man's body. Injuries are frequent; if you have spent at least one day working on a cattle ranch you know the risks and the danger. Moreover, prompt medical treatment is difficult when you live and work on a remote ranch. His current home is at least an hour's drive (and that's on a good weather day) away from Las Vegas, NM, the nearest town.
Through the years injuries have taken a toll on Rick's body; the wear and tear caught up to Rick in late 2020 when nerve damage in his back caused significant deterioration in his strength and mobility.
In May of 2021, Rick went through a ten-hour surgery at the MAYO Clinic in Scottsdale, AZ where two neurosurgeons put two titanium rods in Rick's spine. If 10 hours under the knife is not enough, Rick suffered a major heart attack while being wheeled to recovery from that surgery. Weeks of recovery followed with Rick anxious to regain strength and return to New Mexico and the ranch job he loved.
Recovery at home was going well when one of the rods cracked; another surgery at the MAYO was required to replace it. During this second surgery, doctors replaced both rods and added an additional rod. Rick again returned to the ranch with hopes of quick recovery.
That did not happen. At home Rick's health worsened and his recovery was not on pace with what had been expected. With a high fever, he was rushed to the emergency room at a hospital in Santa Fe. Doctors discovered a severe infection in his back as a result of the recent surgery; immediate surgery was required. The danger to his life was such that his doctors at the MAYO Clinic ordered an an emergency flight back to the Clinic so they could take the significant steps to suppress the infection and save his life. Rick and Marcia's only truck could not be trusted to make the trips to Scottsdale so they rented a car for Rick and Marcia to go to AZ for Rick's initial back surgery. They had to stay in a hotel for examinations before the surgery and for Marcia to stay during Rick's stay at the MAYO. More hotel stays were required for Rick's second (rod replacement) surgery.
They hope Insurance will cover Rick's emergency hospital flight from New Mexico to Arizona. After several weeks of treatment for the infection at a rehab clinic in Scottsdale, Rick had to pay for a commercial flight back to Santa Fe and home.
As a result of the surgeries and infection treatment, Rick spent 67 days in AZ at the Mayo Clinic and subsequent rehab facilities. The ordeal significantly strained the Walt's finances. Rick is finally recovering and getting stronger every day. However, they can no longer work and live at the ranch they have called home for 21 years. Loss of work, significant medical related expenses, and now upcoming moving expenses have put the Walts in a deep financial hole.
With the benefit auction here on Facebook as well as a GoFundMe site (https://gofund.me/920536bb) are hoping to raise $100,000 to help them start a new life. Let us tell you why Rick and Marcia Walt are so deserving of our help.
As a youngster, Rick's dad would bring home un-broke horses and ponies for Rick. He was about 11 years old when his father traded a piano for an un-started mare named Raiders Comet. Rick started her and went on to win reining, roping and gymkhana events all around the county with this horse.
During this time Rick's father worked for a family friend: Tom Robb a polled Herford breeder. Tom Robb employed Rick through his high school years and Rick credits Tom for the start of his cowboy life.
After Rick graduated from high school in 1979, he worked on a ranch in Toponas, Colorado. To try something different Rick went to work at the Climax Molybdenum Mine in Colorado. However, this endeavor only lasted a year before his love of cowboying out-weighed the money he made in the mines.
After Colorado, Rick went to work on ranches throughout NM: the Tequesquite Ranch, Libbys, Millers, and The Gray. In the early nineties Rick moved to Idaho and worked for the Gardner's, DeerCreek and Spiked Diamond ranches.
Rick met Marcia in Blaine County, Idaho while helping children learn to rope at the local Elementary school. Rick enjoyed mentoring young people to help them learn correct stock handling. He was the director of the Wood River High School rodeo team and assisted in the children's local rodeo club. Rick represented the ranch he was managing, becoming a member of several grazing associations where he worked closely with the BLM and Forest Service. Rick's knowledge and experience was respected and trusted by both the Forest Service and the BLM and they came to him for guidance on range management.
Along with the owner of the ranch Rick managed, Rick helped to design and develop a water system for the BLM on one of the ranch's allotments. The water system was designed to help both the ranch as well as wildlife, with special designs for the bird populations. The local veterinarian often called upon Rick to help in difficult situations with horses. Rick was also sought out when cattle needed to be moved out of harm's way during huge wildfires. One time, he was asked to lead a rescue team high into the mountains of Idaho to save a pregnant mare that had been left in the back country. During the rescue a snowstorm set in. Rick safely led riders and horses across a frozen river three times. On the last crossing his horse went down and Rick broke his leg and tore tendons and ligaments in his ankle. Rick then did what real cowboys can do: he got back on his horse and rode four hours out of the mountains, in the dark, in the snowstorm.
Rick's heroism didn't always involve livestock. While on the ranch during a late summer storm he was with a family friend who had an asthma attack and quit breathing. Rick drove through flooding streets and carried her into the ER and saved her life.
Rick's cattle, horse and people rescues were written about in the Mountain Express, a local Blaine County newspaper. People called him their local guardian angel.
In 2001 Rick and Marcia moved to northern New Mexico to take a job at a large cattle ranch. They moved from Idaho in two new trucks and two new horse trailers to a camp house that had not been lived in for quite some time. The roof leaked and the house had dead rodents and animal feces in it.
To add to their desolation, the phone lines had been cut, the propane fridge did not work and the generator was gone. They lived in their teepees for well over a month while they pulled out nasty carpet and scrubbed walls and floors. Rick fixed machinery, fences, and mended broken water lines. Rick's first works he branded and castrated two year old bulls, a task normally done safely (for human and livestock) on calves. Through the 21 years Rick and Marcia have lived on the ranch they have welcomed many young cowboys into their home and helped them learn the skills needed to handle stock. Rick continued to start colts and use them in the country he knows and deeply loved.
Rick practices the "slow is faster" method of stock handling and enjoys sharing his knowledge with anyone who is interested. He is a hero to people and their animals having risked his life to help them through floods, fires, and blizzards. He has also been an admired judge for stock events that promote the careful stock handling he believes in.
It would be easy to just label Rick a tough cowboy with an uncanny ability to quietly handle livestock. Rick is much more than that. He is as humble as he is generous, kind, compassionate and respected. He is a beloved son, brother, husband, father and grandfather and a friend to many.
For anyone who has admired a good horseman/cattleman and for those fortunate to have known Rick, we offer this opportunity to show him and Marcia your gratitude and thanks.