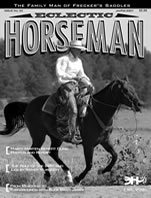 Rub the Hair Off 'Em by Martin Black (read online) 
What does your horse think when he's sees you coming?
From Reaching to Turnarounds with Buck Brannaman 
Building on last issue's reaching exercise, Buck demonstrates how to initiate a turnaround from the reaching exercise.
The Family Man of Frecker's Saddles by Doreen Shumpert (read online) 
Meet Kent Frecker and learn what makes a successful custom-built saddle business thrive.
The Role of the Seat and Leg by Wendy Murdoch (read online) 
Wendy examines how your seat and leg work to get your horse forward.
Marty Marten Benefit Clinic 
Photos and report from the Marty Marten Benefit clinic held Octover 14-15, 2006, at the Last Resort Equestrian Center in Fort Collins, Colo.
Owl Canyon Vaqueros: Ridin' Ropin' and Ranchin' by Doreen Shumpert
LuAnn Goodyear promotes a new breed of 4-Hers through introducing Vaquero traditions and natural horsemanship.
Trotting Circles by Tom Moates
Are We Feeding Our Horses' Fears Part 2 by Bonnie Brindle
Horsemanship in the Real World: Rope Halters by Cheryl Kimball