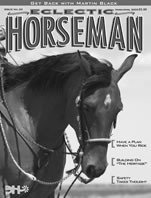 Have a Plan When You Ride by Mindy Bower  
Mindy guides you through an average ride to help you learn to formulate a plan for riding your horse.
Equibalance Part 3: The Bolts with Julie Leiken  
A stable and level pelvis is essential for refined riding, Julie helps you find and correct your imbalances and weaknesses.
Building On "The Heritage" by Gwynn Turnbull Weaver 
The Californios adds a youth horsemanship class to its contest.
Laterally Related by Wendy Murdoch 
Part two in a series guiding you through both the concepts and the implementation of lateral work with your horse.
The First Annual High Desert Vaquero Contest by Gale Nelson 
A brand-new contest lets riders showcase their horsemanship skills in several classes.
Safety Takes Thought by Sue Stuska, Ed. D. 
The best way to avoid accidents with your horse is to think ahead; avoid these common mistakes.
The First Week: A Review by Cheryl Kimball 
Cheryl offers her recommendations on this video series from Bryan Neubert, Jim Neubert and Joe Wolter.
Get Back by Martin Black (read online) 
Martin explains why you want your horse to pull with his hindquarters to back and how to encourage that response.